Applied Psychology
The Science of Sexology
Take the Course
The Science of Sexology
Details
Start Date
1 October 2023
End Date
31 December 2023
duration
20 hours
Course Overview
Sexology is a new science which is not always understood. This course will give you the confidence to explore the field of sexology, boost your knowledge and help you understand concepts related to human sexuality and behaviour that are naively misunderstood.
The Science of Sexology short course introduces you to the scientific study of human sexuality, human sexual interests, sexual behaviours and functions within various environments and subsystems.
This ecological approach focuses on the perception and control of sexuality and sexual behaviours that occur naturally, that is, outside the laboratory.
In this 20-hour short course, explore sexology as an autonomous scientific study, with its own very specific frameworks and ideologies. Examine the strong presence that sexology has in overlapping academic fields such as biology, medicine, psychology, sociology, and criminology.
Learn about the history of Sexology, how it came into existence and how it has evolved to the present day.
Finally, the course will expand your knowledge of the role of a Sexologist, Sexuality Therapist, and Counsellor of Sexuality.
Is this course for you?
This course is for you if you want to gain a better understanding of human sexuality, human sexual interests, sexual behaviours, and functions.
What is sexology?
Sexology is the scientific study of human sexuality, including human sexual interests, behaviours, and functions. Sexologists have studied the science of sex, which means they have studied human anatomy and physiology and psychology regarding sexuality, sexual interests, and behaviours.
Dates and Registration
Class of 2023 October – December
Class of 2024 January – March
Class of 2024 April – June
Class of 2024 July – September
Class of 2024 October – December
Short course classes are on demand allowing you to register at any time and move through course content at a time that suits you. Learners will have access to the course for the class period they choose when registering.
Certification
Upon completion, you will receive a digital certificate of completion as evidence of the skills and knowledge demonstrated.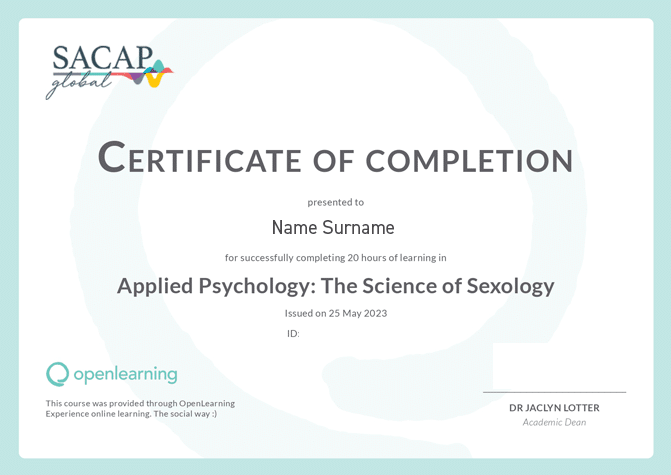 The Science of Sexology short course has been designed and developed by experts in the field of psychology. The course is for anyone needing to upskill in this area and offers 20 hours of learning.
What You'll Need
Access to Microsoft Word
Google Chrome (recommended)
Stable internet connection
What You'll Learn
Through videos, readings and discussions, you will explore the following topics:
Sexology as an Autonomous Science. Identify core terms and concepts within Sexology as its own unique field of study.
The History of Sexology Pre-Scientific Pioneers; Greeks, Romans, Jews, Vatsyayana and Kama Sutra.
The History of Sexology: The Scientific Pioneers of Sexology.
The work of a Sexologist, Sexuality Therapist and Counsellor of Sexuality.
Course Outcomes
By the end of this course you will be able to:
Define the terms Sexology and human sexuality.
Describe the placement of Sexology as an Autonomous Science by means of (W)holism, Universal integralism (bio-psycho-socio-cultural) and an inter-transdisciplinary theory.
Examine the Overlapping Fields of Sexology with other Sciences.
Describe the World Health Organisation (WHO) mandate with regard to Sexology.
Describe the influence of the Ancient Greeks, Ancient Romans, the Jews and the Vatsyayana and Kama Sutra on Sexology.
Identify the contributions of: Iwan Bloch, Magnus Hirschfeld, Havelock Ellis, Sigmund Freud, Carl Gustav Jung, Wilhelm Reich, Alfred C Kinsey, Masters and Johnson.
Identify what is the work of a Sexologist, Sexuality Therapist and Counsellor of Sexuality.
There are numerous practical and self-reflective activities throughout the course, to help you on the journey. Each activity is carefully designed to enhance your learning and understanding of the content. This course is not meant to be purely academic in nature, but a course that can truly enhance your journey and understanding of yourself and others.
The Team
Our short course developers and assessors are expert practitioners. They have been specifically selected for the breadth and depth of experience they possess in their respective disciplines. The team loves sharing their knowledge and online learning expertise to ensure that you get the most out of your learning journey.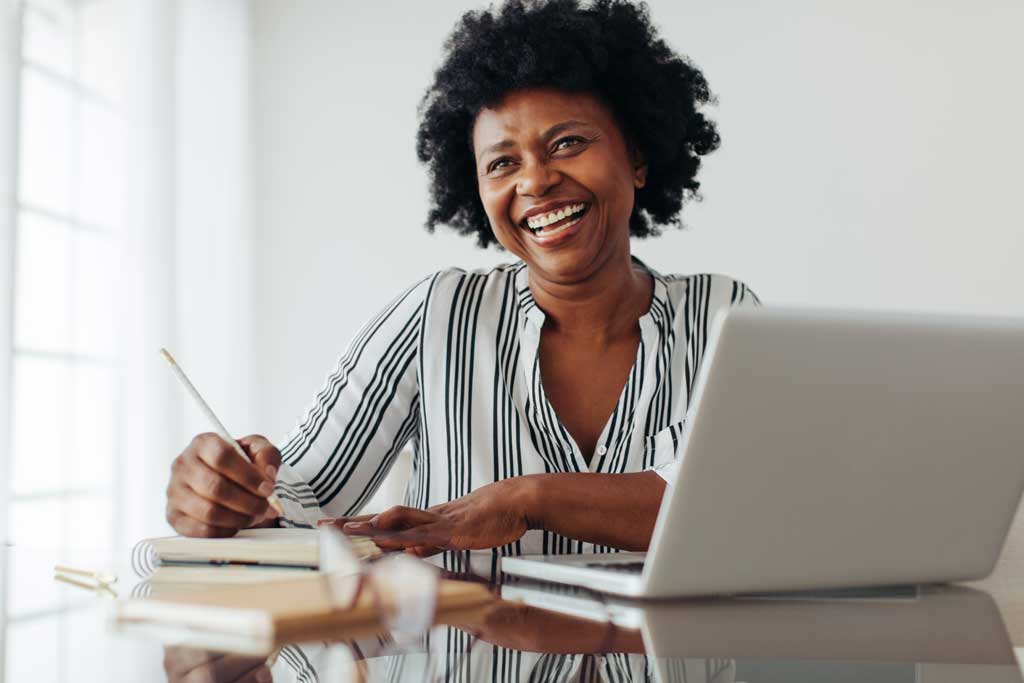 Understand concepts related to human sexuality and behaviour that are naively misunderstood.

Examine the pre-scientific and scientific contributions to building the foundations of the science of sexology.

Identify what is the work of a Sexologist, Sexuality Therapist and Counsellor of Sexuality